Build your own espresso cart!
Sharing how to build an espresso cart Espresso Outfitters style, with all of the details necessary along with tips and supporting direction to make things go smoothly.
You will be building a 6 foot Base espresso cart, one of the best lines for people to start with that want to customize it themselves or simply are on a budget and don't want to waste their time upon something used from other sources that could have a lot of expensive down time and repair costs.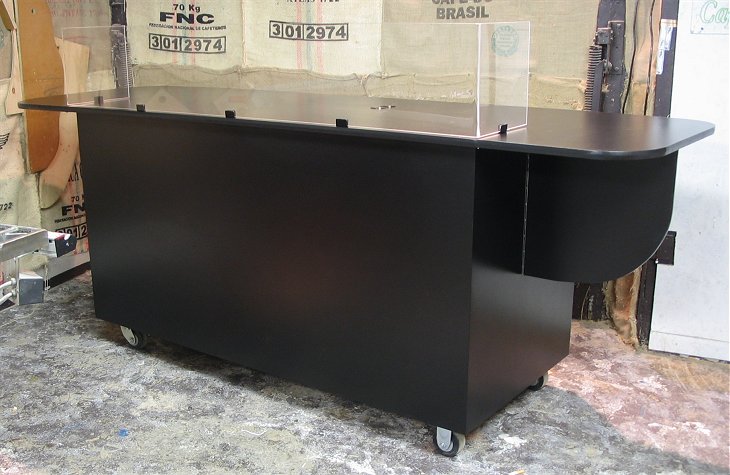 This guide covers the following:
Detailed plans, cut lists, and general assembly information scaled to print size.
Material selection choices and options.
Hardware from the wheels, hinges, screws, nuts, bolts, etc.
Complete plumbing system and installation of lines and fittings.
50 amp, single phase, 220v/120v, Complete electrical system creation.
All of the appliances such as pump and water heater installations.
In addition you are given direction upon where to source everything and we offer additional support towards helping supply your needs upon to make things easier. For example, there are things such as T-molding where it doesn't make sense to buy in volume, nor where to buy it at, stock that we normally use and buy in bulk is easy enough to supply shorter lengths of. Building these regularly, we can help who ever is physically creating and putting it together regardless of the source you go to, from self to someone that has better skills and used to using the tools necessary.

Not being some cookie cutter system, we offer additional phone and email support for those that require it along the way during construction. We also will back you up when it's time to submit your cart to the health department. This is an Espresso Outfitters guided and built cart rather then something that some well intentioned home builder is trying to figure out along the way. They like seeing this in place due to that and it's also good for us to stay in the loop should any changes or revisions need to be addressed with future and current production. In addition it also takes the worry on their end knowing that a professional operation that specializes in these are behind it all, worry from yours since the guess work is more then addressed. The electrical system is not normally included with the base espresso cart lines, but we felt it necessary to include for those using the typical 2 group espresso machines.

You will be given a password protected space on our server, this is your personal cloud of sorts to access the original cart plans and guides. Additionally it will be a spot that personal support is extended to graphically uploaded to, text, video or otherwise as needed. We are wanting this done right, so do you, and this is that getting to your level where it counts upon support. The data can be accessed from anywhere with internet access in the world for added convenience.








Shown with additional 3 compartment sink system.

This makes sense after we show you the ropes.
Purchase of this guide will be applied for clients that have us build their espresso cart after the fact should they opt to go that direction. Those that choose to shop or build elsewhere after purchasing, it's like having a mechanic by your side as you are selecting the right cart, you know more along what to look for and can be hands on should things break down or need revision. We have purposely kept this line simple and easy for the novice to maintain and make adjustments down the road to better suit their needs.
The introductory price is $50.00 for the package. We will contact you within 24 hours to set up your personalized folder and upload the cart building guide and all information after the order is placed.