- Espresso
Carts
- Food Service
Carts
- Side Carts
- Sink Carts

- Sinks
- Espresso
Machines
- Grinders

- Concept Carts
- DIY Carts
- Prices
- Resources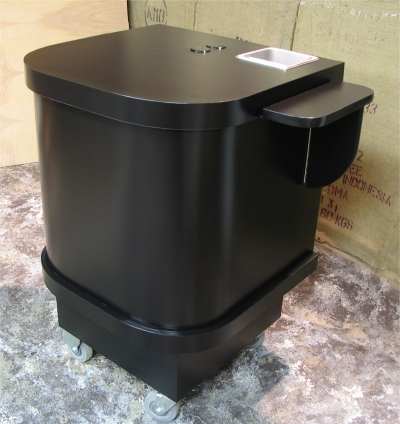 Espresso Catering has never had it so good, this cart is designed to handle any full sized commercial 1 group espresso machine, commercial coffee grinder and is plumbed to accommodate therein, it also has it's own removable knock box recessed into the counter. This is a dream work station that is utterly functional and practical, and of course, is down right cutting edge for this industry.

This cart was originally commissioned to be designed for the regular espresso caterers that want to do smaller events without having to bring along the larger entourage, it's concept was so true to what the public wants, we've decided to make it a standard line. Portability is also something this line has unique to the industry, the upper and lower sections can be separated which allows it to be transported in any regular sedan or suv, connected, they function as one even through navigating smaller then standard doorways and difficult areas.
Click on the images below for a larger view.
Features:
2 fold down extensions.
Flojet Water Pump
7 gallon waste water tank
Removable doors require no hardware to separate
Dishwasher safe, removable, stainless steel knock box
Dimensions, height, width, depth, weight.
Lower: 19 1/2" x 21" x, 25", 27 lbs
Upper: 26" x 26" x 31", 72 lbs
Price: $1200.00, free crating, ships via. UPS (or) Standard Commercial Freight Carrier, freight collect.
Delivery time: Normally ships within 2 weeks
Options:
Order it without plumbing for those not needing it and save $160.00 off of the regular price.
A broad choice of colors, *note, exotic, or non standard colors may delay construction and affect costs.
Be sure to check out the Espresso Cart section of this web site for the larger catering and full sized commercial espresso carts. The Mini Standard Espresso cart is designed to be compact in nature, yet keeps many of the same features their big brother the "Standard" has with a few minor modifications to keep things more light weight. If you are looking for a catering cart that packs alot of power that can also be located at any sidewalk as a stationary, full sized, commercial espresso cart and still pass code, this is the one for you.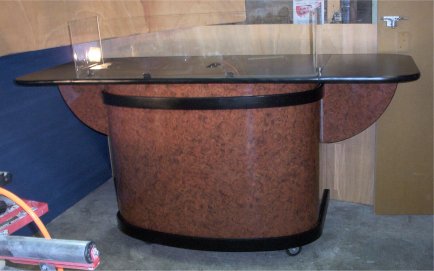 Click on the smaller images for a larger view: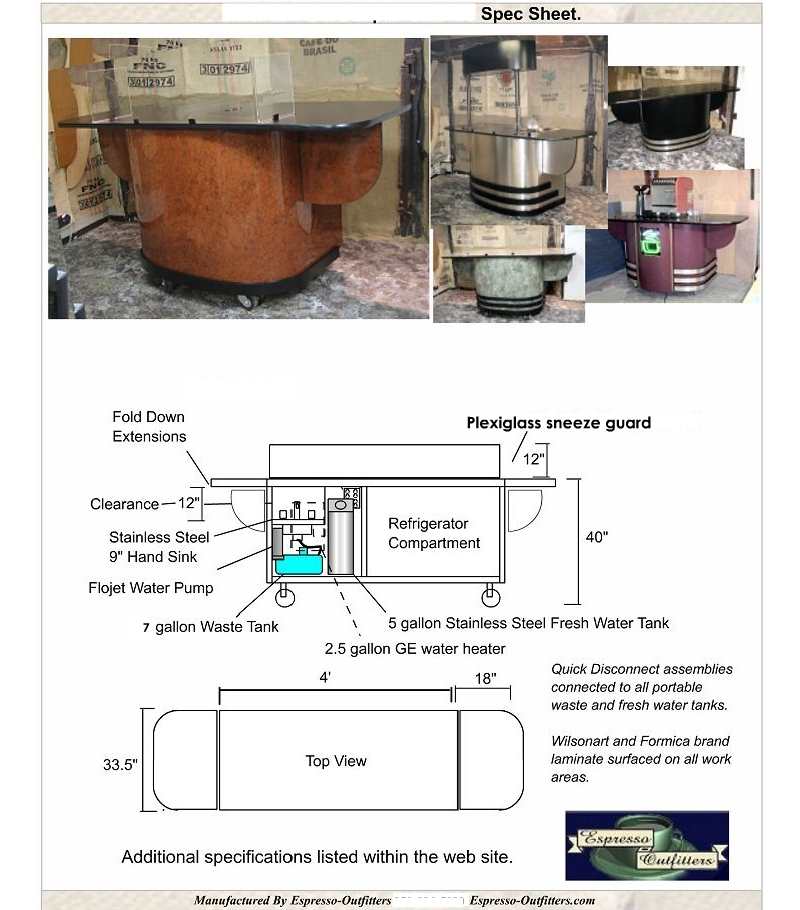 Features:

3/4" high density plywood construction with composite NON particle board materials.
1" Laminated surfaced Verola counter.
Aluminum base frame with industrial Colson castors.
Stainless steel and european hinges.
Flojet Pump and GE 2.5 gallon hot water heater.
Stainless steel hand sink.
5 gallon Stainless Steel Freshwater tank with quick disconnects.
7 gallon Waste water tank with quick disconnects.
2, 18" collapsible counter extensions giving you a total of 7' of counter space.
A design that compliments anybody's operation.

If you are short on space, or are running an espresso catering business, the mini standard espresso cart will suite your needs without compromising anything, we can customize it with additional options upon request including a large pallet of laminate surfacing colors and texture options.

If you would like to upgrade this cart, we've detailed and offer the MSPEC line to show just how some of the options can be customized and integrated within this line.