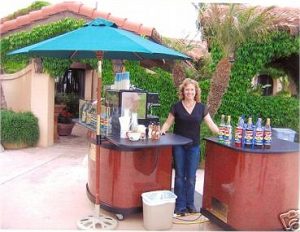 Our espresso cart lines are just an indication as to what we can build, we very much enjoy new custom designs, this is what makes the building process fun. There really is no limit as to what can be created, it's simply a matter of time, budget and imagination.  All of our espresso carts can serve general food service needs.  The color combinations are chosen partially from our clients and partially with what we have pioneered ourselves, feel free to contact us as to any possible variations and extra accommodations for any model.
Sharing a new package deal to begin with on the cart lines, partially to show how affordable a fully outfitted espresso cart is, but also how easy it is to have everything ready to go without needing outside intervention.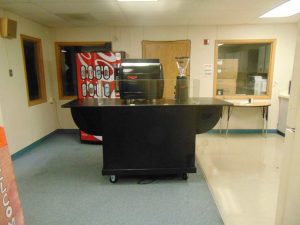 A Turn Key Espresso Cart that You can easily set up!
The package includes:
4 foot Classic Espresso Cart with 2 fold down extensions which extend the counter to 7 feet.
Astoria GLORIA SAE 1 automatic espresso machine, 1 group, an easy to use work horse that is Italy's best in engineering, design and reputation.
SUPER JOLLY TIMER commercial grinder.  Made by Mazzer, the industry standard from the beginning.
Beverage Air UCR 20 refrigerator, the best for commercial refrigeration.
Shipped to your door.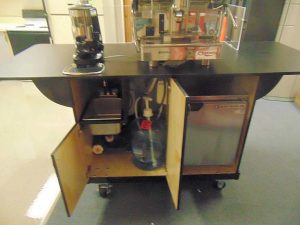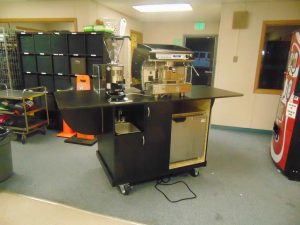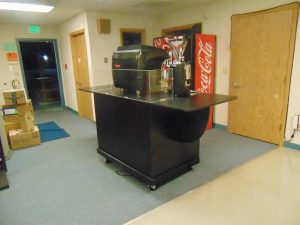 Priced at only $12,300
Start up and ongoing supply package can be added upon request, custom tailored to your needs. From napkins, cups and straws to the knock box, steam pitchers, and the entire array needed to operate your cart daily. (EASY AS 123)
Showing the carts, and as with the equipment, our company can custom tailor a package to your needs.
The Deco Espresso and Food Service cart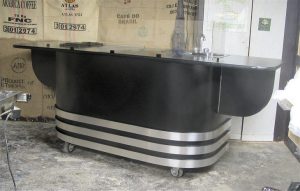 A very modern looking espresso and food service cart with a rounded art deco styling, the trim and molding is also extremely solid just as the rest of the construction.  The combinations makes a huge impact with clients and it's core construction, from materials, craftsmanship, engineering and procedures are unprecedented.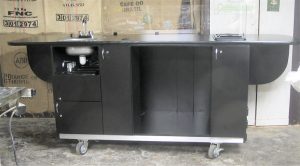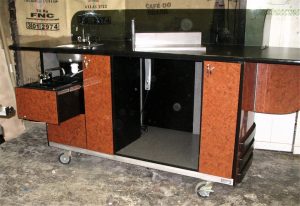 6′ by 33″ counter with 2, 18″ extensions.

6′ Plexiglas sneeze guard

Commercial, fully laminated high density plywood core and composite construction

Industrial Castors and steel base frame for ease of mobility

1 hand sink, (Slide out 3 compartment sink shown optional)


Flojet pump

2.5 gallon water heater

2, 7 gallon waste water tanks

Additional compartment for the appropriate sized Beverage-Air line commercial refrigerators
*All of the counter extensions are very easy to fold down on all lines: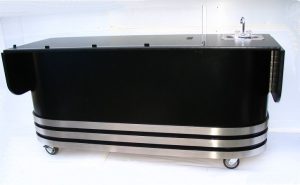 The 8 foot version has all of the above along with an additional 2 feet of counter space and a larger refrigerator space.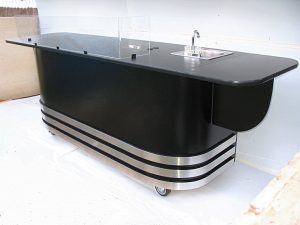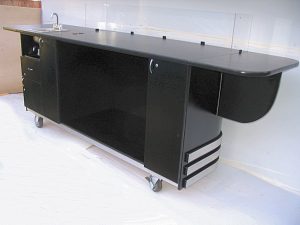 The 4 foot version option is also very popular.  As with the rest, hand sink only option can be mounted under counter as shown.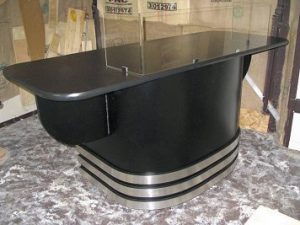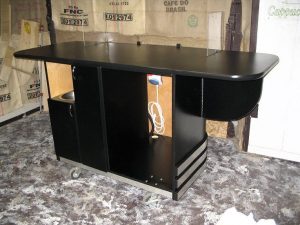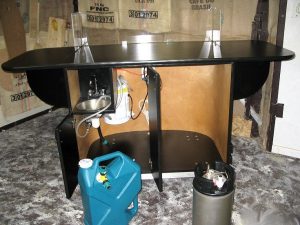 Additional variations and options of the Deco lines: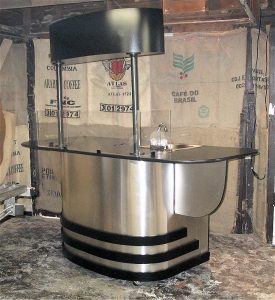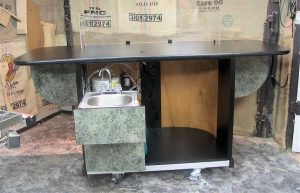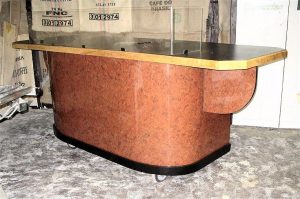 The Deco N "N stands for neon" Cart takes things to an even more sophisticated level.  Similar specs to the 4 foot Deco cart, but with more options shown in the photo's.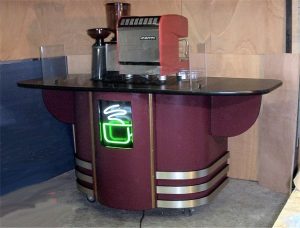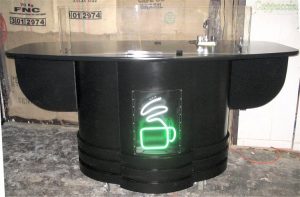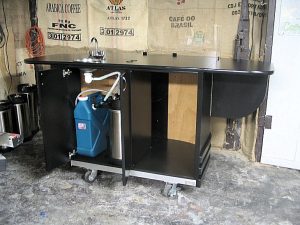 We also have a simpler variation in this genera. Showing with a matching side storage cart. This version, the Deco S version "S stands for simple" is built with the same quality standards as the rest, just without the add ons.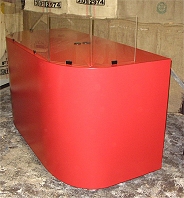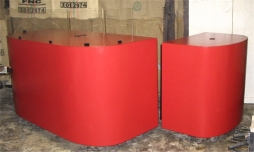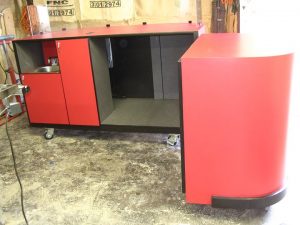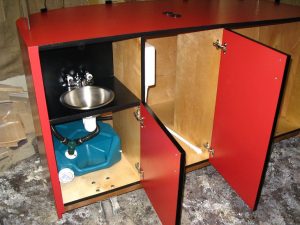 The Classic style espresso cart has been Espresso Outfitters flagship cart design from the beginning.  Further options shown in the photo's that can be added onto all of the main full sized cart lines.
Starting with the Classic D model.  "D stands for display".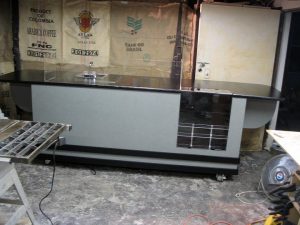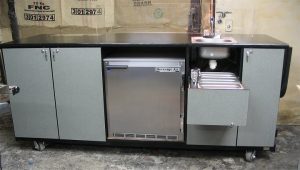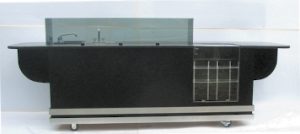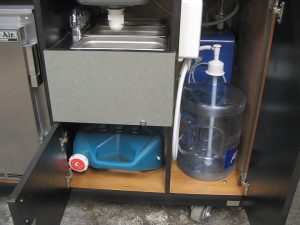 Having a lighted up display case that is easy to put display merchandise upon, to the pull out under counter 3 compartment sink or in counter option. It has the stock full plumbing compliment with everything self contained, and in addition the extra storage, along with the extra trim, this cart is a formidable retail concession on it's own. It has the ability to serve a wide array of food and drinks.  This self contained kitchen and more on wheels and is nothing boring at all even though it's conservative in styling compared to the other lines offered at Espresso Outfitters.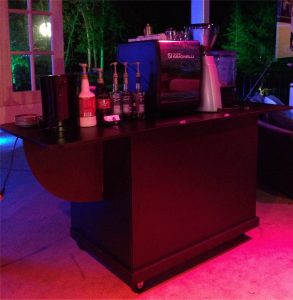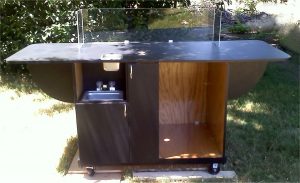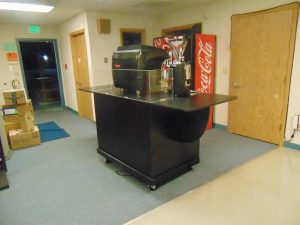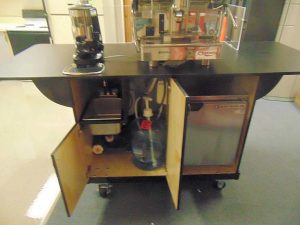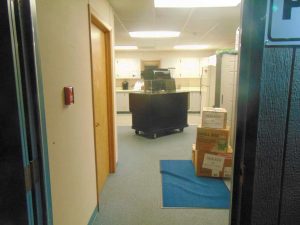 With this line as well, we have a simpler line called the Classic B model, again as before it's built to the same standards as the rest of the carts, they only have less features.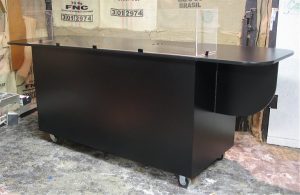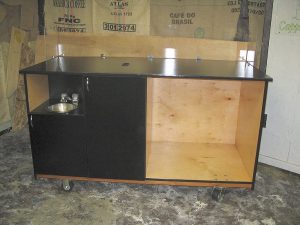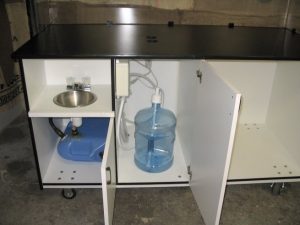 Custom shapes, styles and designs are more then welcomed.