The Standard six foot espresso cart specifications.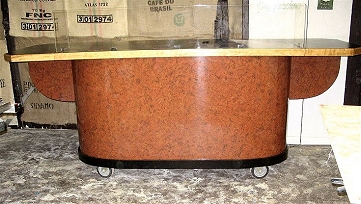 Composites:
Body material: 3/4" High density hardwood plywood's surfaced with quality true laminates, front radius profile composed of the equivalent conformable materials.

Trim: Body material specifications are the same as construction. Counter trim composed of 3/4" by 2", hand finished cherry.

Base frame: A series of 1" by 2" industrial, brushed aluminum Uchannel tubing mounted sandwiched between the bottom of the cart and the castors..

Castors: 4" by 2" industrial, rated at 900lbs capacity each with swivel locks to allow for more ease of manuevers. Front castors are swivels with side lock brakes, rear castors are bi-directional, which means they can alternate between being swivels or can lock in place as straights which makes mobility even through tight areas a breeze while being able to move over longer distances without it dancing around.

Sneeze guard: 1/4" Plexiglas, removable for easier transport.

Additional features:

Piano hinges and mounting assemblies for extensions and supporting assemblies.
European hinges for door assemblies.
Quick disconnect fittings for the wastewater and freshwater tanks.
Optional slide out removable sink compartment for ease of use and maintenance which utilizes european, ball bearing drawer slides.
A unique high tech rounded body profile.

Water system:
2.5 gallon water heater
Under counter faucet and hand sink
2, 5 gallon commercial grade stainless steel freshwater tanks
1, 7 gallon waste water tank

Electrical:
*We can accommodate those that require a more independent electrical source which helps when you are physically located some distance away from a wall by assembling a full sized sub panel which will give you plenty of outlets to handle your equipment including the 220v for your espresso machine.
The sub panel is an additional option priced at $450 in addition to the base cart costs. I surge protector is the standard option for all of our cart lines.

*220V Sub Panel

We have attached 10 feet of very heavy duty gauge 6 awg, water, solvent and oil resistant GSO cord into a single phase 50 amp sub panel that includes 8, 110v outlets, one 30 amp, 220v outlet and all full sized G.E. brand load centers. We have not skimped upon any detail involved within the construction of it and have added a redundant grounding system so you can be assured safe, reliable service for all of your equipment.

The breaker box is mounted to it's own removable panel to make maintenance very easy on your electrician. The industrial metal outlet housings are complimented with stainless steel covers so they can be used and abused without having to worry about cracking. The plug for the 220 volt outlet is supplied which makes it a snap for any electrician to connect your cart to the building.
The following are the standard options and price adjustments.
Plumbing options:
Slide Out Sink Compartment (shown) +$50.00
Under Counter Sink Compartment +0.00
Flojet Water Bottle system -200
Additional Sinks and systems - Call
Counter Trim:
Cherry (shown) +$130.00
Walnut +$170.00
Maple +$150.00
Oak +$100.00
Rubber bumper -$0.00
Exotics - Call
Body Trim:
Single (shown): + $0.00
Dual + $200.00
Triple tier + $400.00
Custom - Call
Laminate/surfacing choices.
We remain flexible in this area and are always trying out new things, if you have an idea, we can accommodate you one way or the other. Laminates "commonly called by a manufacturer of it termed as "Formica"" is the base surfacing material we choose to insure all of the surfaces are durable and easily cleaned. If you have a specific color choice based upon the current laminate manufacturers i.e. Wilsonart, Formica, etc. we can use what every you have decided upon.
This is a simple diagram to show the dimensions and a brief feature overview.
All of our espresso cart dimensions are based upon moving through the standard residential one way door way, reference: http://justwoodworking.com/charts/heights.php for more information about what the proper dimensions should be for general construction, much less something designed to be moved in and out of doors. Taking this into further consideration, most health department requirements require all espresso carts vending on a public walk way out doors to be no larger then 6' long by 36" depth for the counter with the fold down/removable extensions to not exceed 18" by 36" each. We choose not to limit our clients to only being able to operate indoors or have to undergo unnecessary headaches if they decide to change locations, but if you do require larger dimensions, by all means, we will accomodate you.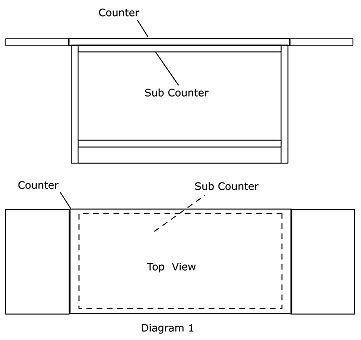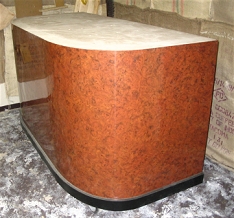 You'll see by the numbers that this is indeed a full sized espresso cart that can handle any business volume and support all of the regular full sized commercial equipment compliment. Our 2005 lines take things one step further by modularizing the body construction system all together. Refer to Diagram 1.
To expand further upon the structure, the 1" by 2" aluminum tubing uchannel is layered between the base plate "espresso cart floor" and the castors themselves, bolted directly through all layers using heavy duty carriage bolts. The rounded profile also adds to the structure by using a time tested arch type system and even the dividers further stabilize the structure. All elements combined with tremendous torque levels throughout make this the absolute strongest espresso cart in the industry hands down. In addition to this, there are no welds to break, the frame will not rust, and all contingencies outside of an act of God have been well prepared for within it's design.