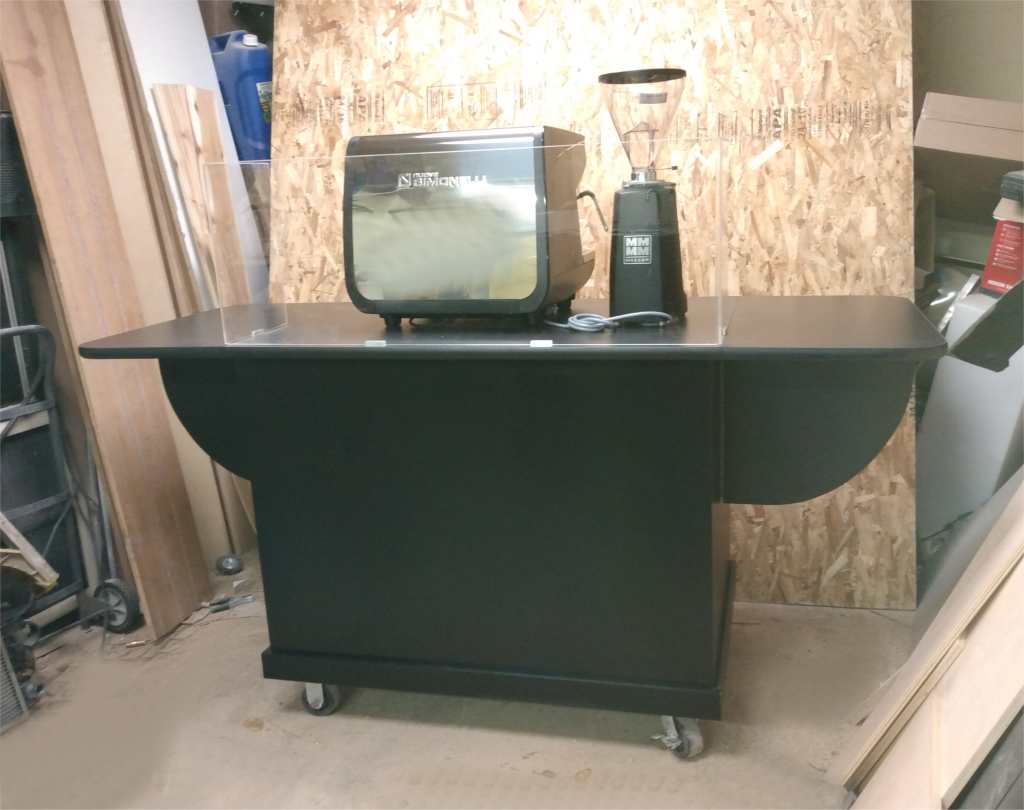 -

Espresso
Carts

- Grinders

- Prices


Our espresso carts are built with precision using the best materials available. The engineering, quality, designed and built to last many decades put into our espresso cart lines are unprecidented. We offer a range to best suit the clients needs, all of them adhering to our high quality standards. Revisions to the existing lines and custom designs are always welcomed.

We keep the operator and their clients in mind when it comes to the design parameters for ease of use and aesthatic appeal. Keeping things less complicated for the barrista free's up their time to focus on the tasks at hand, it also makes it easy for adding and maintaining the equipment since the carts are plug and play, easy access for all of the plumbing and the rest. There is special care into insuring they can be easily moved around and also carry a very heavy equipment load at the same time. This is a very important area that makes a world of difference when applied correctly. They are all fully pumbed and electrical elements necessary addessed.

We build our carts to accomodate even the most rigid of health department requirements. We extend full support and necessary documention to get your cart through the inspection process flawlessly.

Personalized service from the initial contact, helping you to decide what is going to be the best fit for your application, through the entire process down to being on location and long after it's in operation.
The Flagship Espresso Cart combines several proven innovations and advancements into one very sharp package. Form and function together give it a clean, modern look. This one has it's own build page to show in greater detail what goes into this and our other lines. Click Here to see more.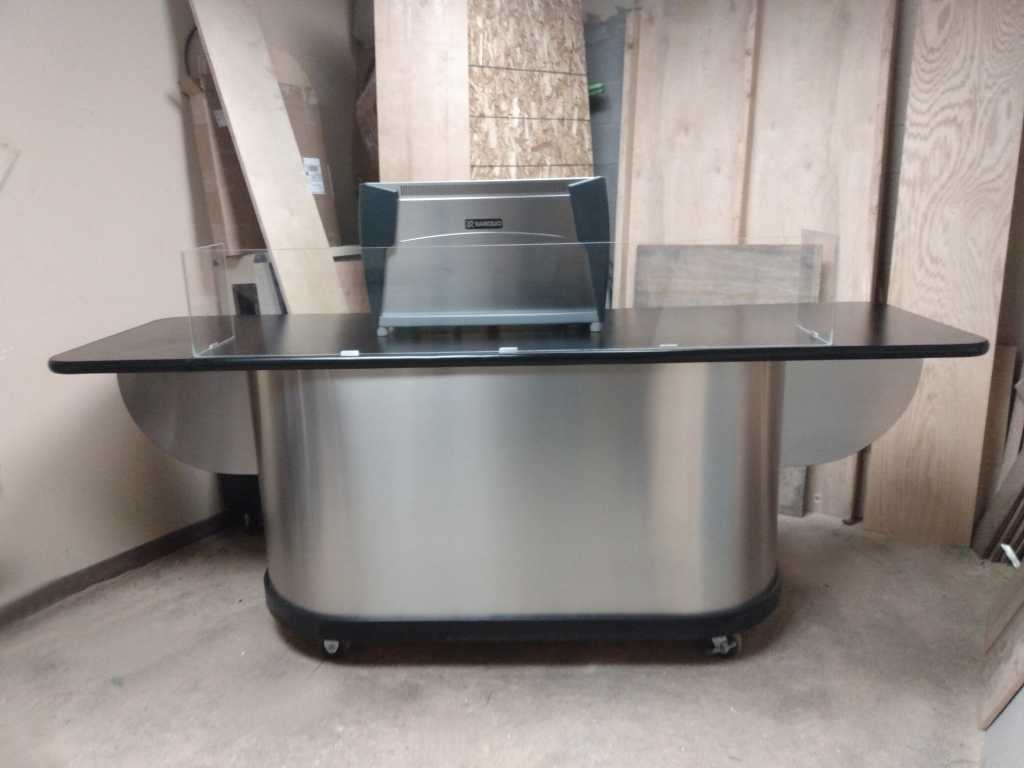 The MSPEC Espresso Cart line: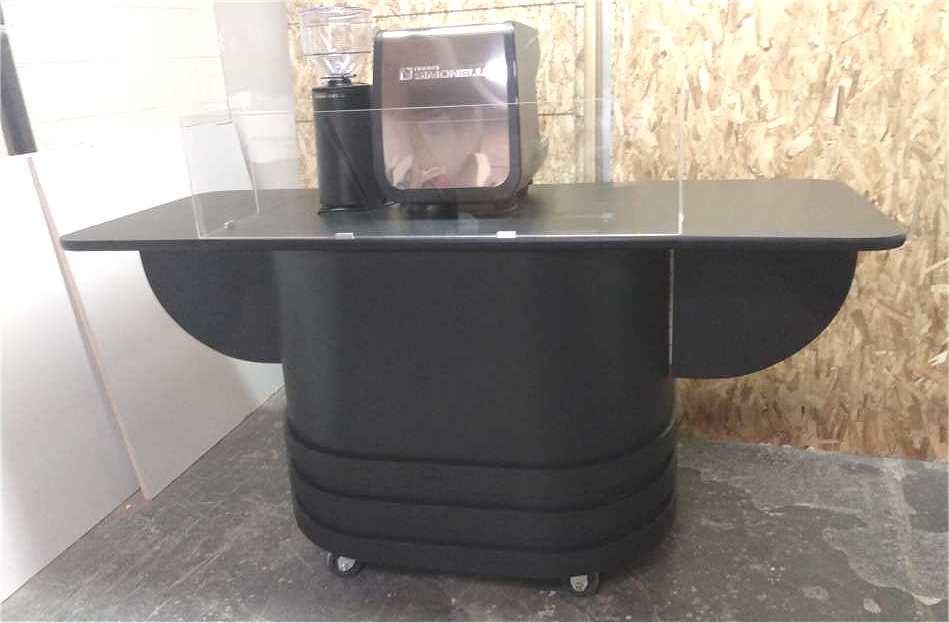 We've expanded upon the Mini-Standard and the Standard espresso cart with a dramatic rounded profile, the triple tier trim is surfaced in aluminum sheet metal as well as the wheels are bi-directional which allows them to change from straights for added control on one end of the cart, or with a pull of a pin, 4 way swivels which combine to get it through impossible corners.
We've dubbed these designs as the Mini-Standard-Plus Espresso Cart for the 4 foot model, Mega-Standard-Plus for the 8 foot model, MSPEC for short, keep in mind, the fold down extensions create an additional 3 feet of counter length with both models.
| | |
| --- | --- |
| | |
| | |
| | |
| | |
| | |
| | Slide out hand sink option is standard as of 2021 |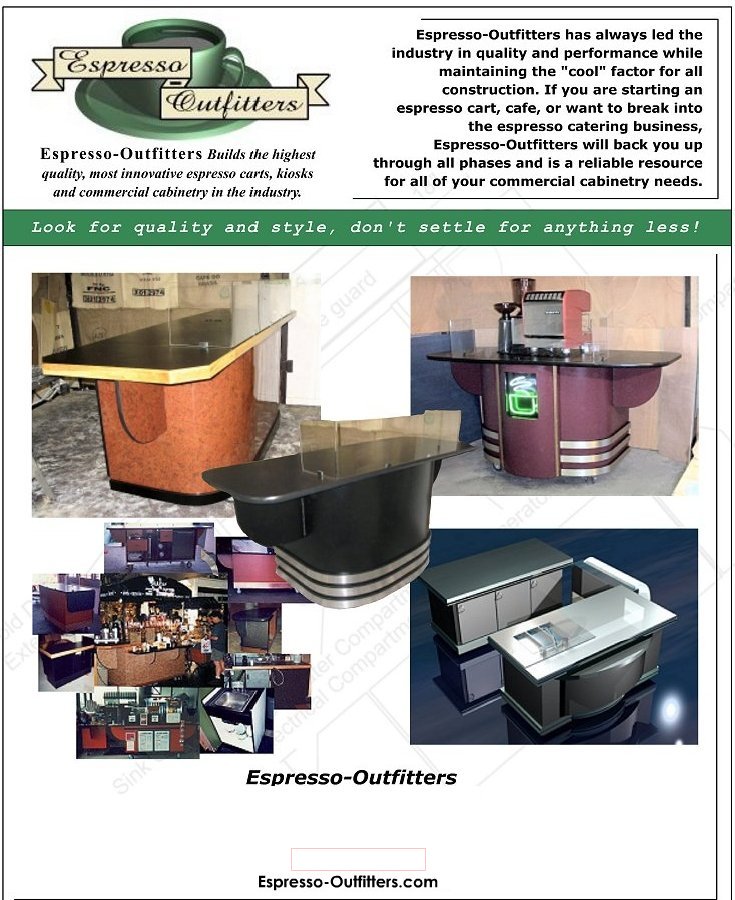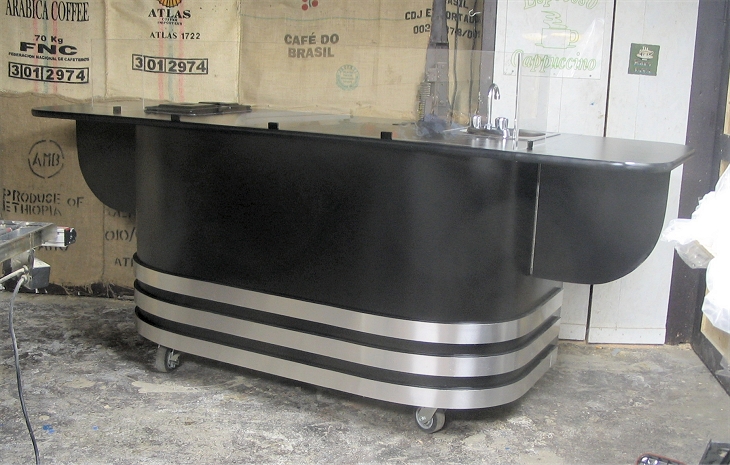 6 foot model is available.
The 4' Mspec Shows off a very high profile look while being able to deliver at the "same" volume of the full sized carts, from code to capacity, this cart packs in alot of power into a small footprint, it's a spin off of the Mini-Standard and is meant to show how some options from that line can produce a dramatic effect. You can refer to the Mini-Standard Espresso Cart Specifications upon its plumbing and electrical systems.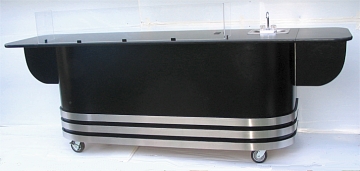 8 Foot Model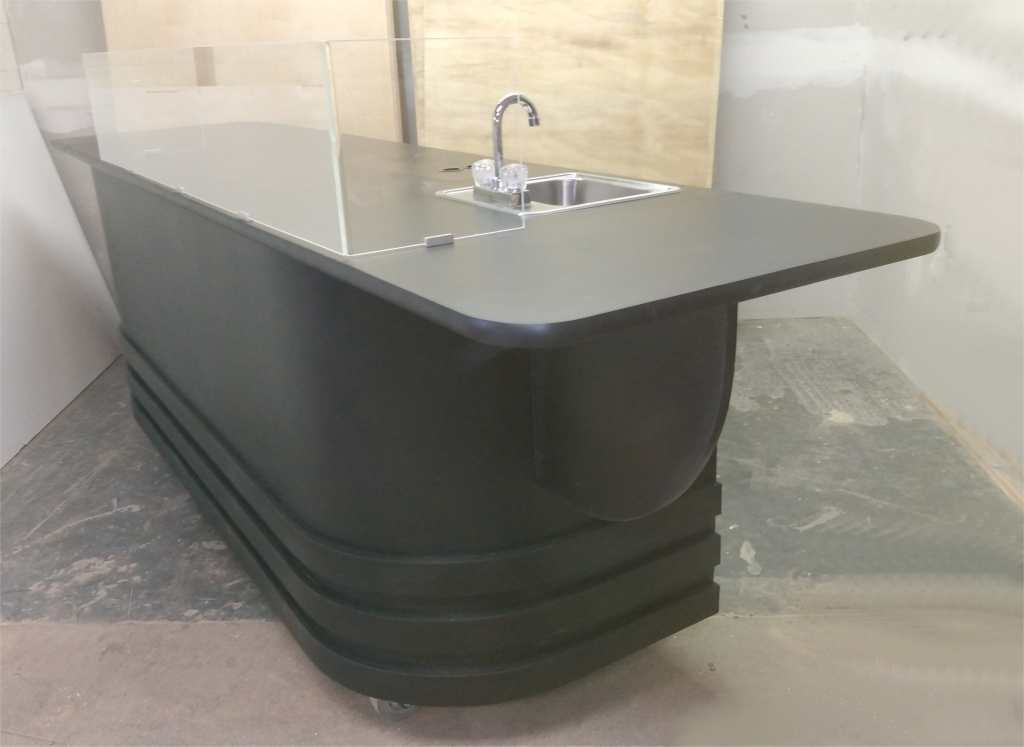 The Classic Espresso cart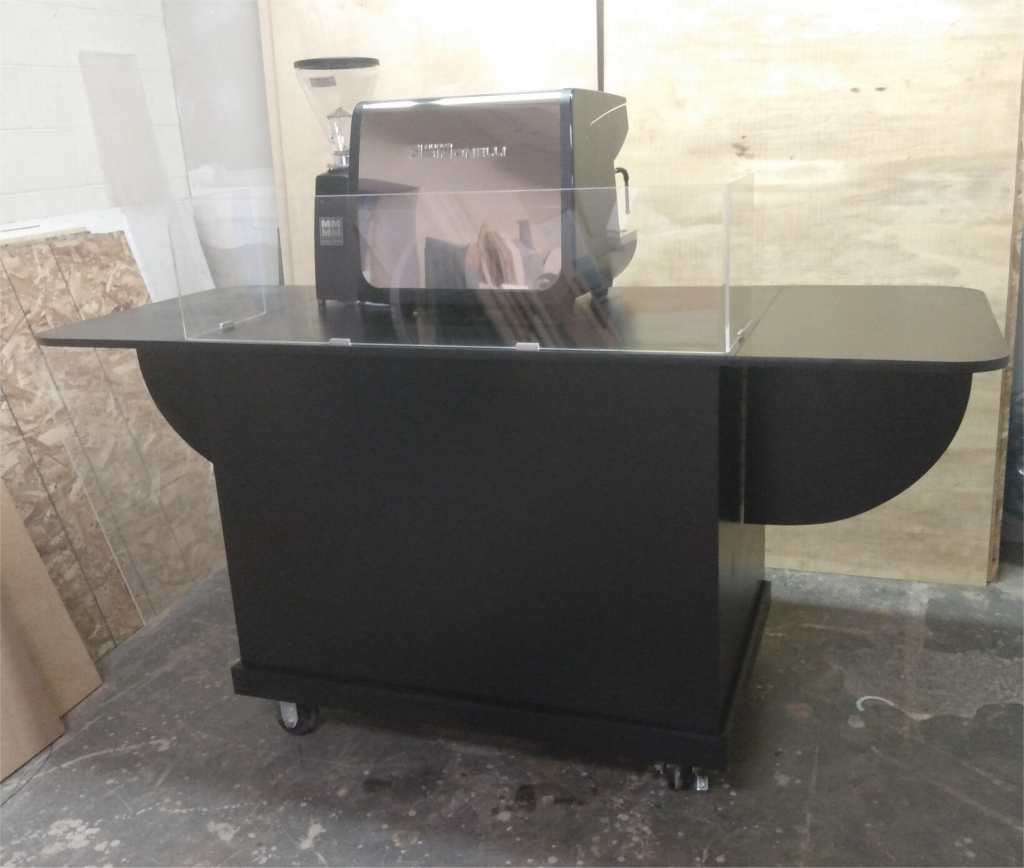 Back in the day when we were based in Seattle and when the specialty coffee industry was getting popular, we were known for producing a very classic styling of espresso cart. These were as now, they came with several standard features, such as two fold down wings to extend the counter an additional 3 feet, decorative trim, and a straight forward plumbing system, sneeze guard and sized to easly fit through standard doorways.
Shown here is a few examples, these make wonderful catering carts that can also serve in in a full time regular setting. We can produce this in any size required, just as all of our lines.
Some of the included features:

2.5 Gallon Water Heater

Stainless steel hand sink

Water bottle pump

Plexiglass sneeze guard

3/4" Hardwood ply and steel construction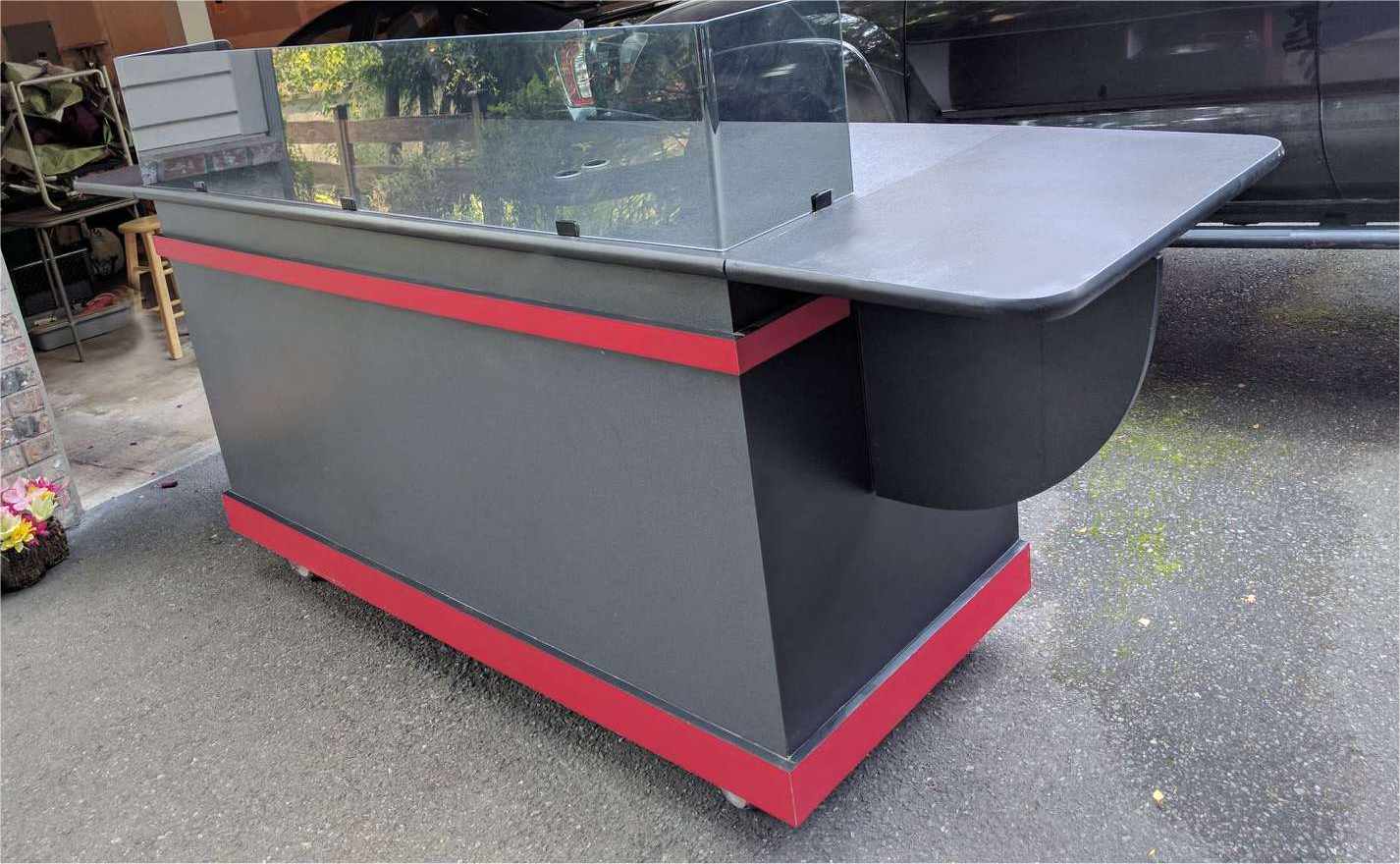 6 foot version shown.

The Base Espresso Cart is a full sized, 6 foot, commercial espresso cart built for those that do not require all of the extra bells and whistles yet still need a workstation to take care of their needs.

| | |
| --- | --- |
| Round base espresso cart | Square base espresso cart |
| | | |
| --- | --- | --- |
| | | |
| | | |
| | | |
| | | |
| | | |
| | | |
| | | |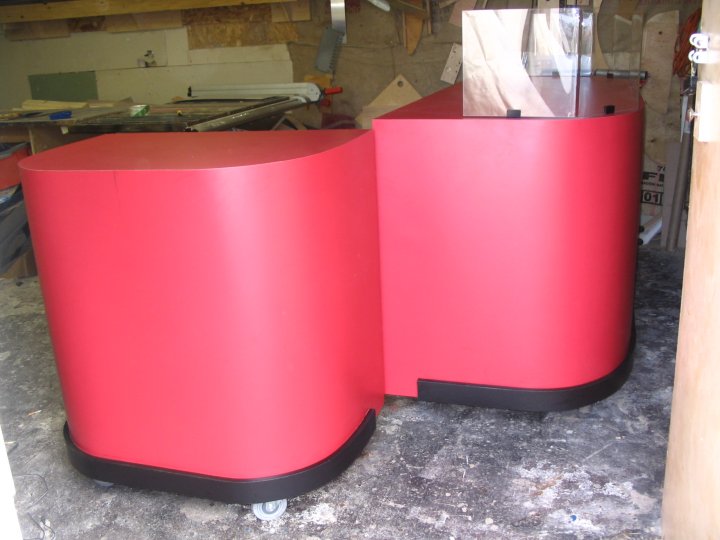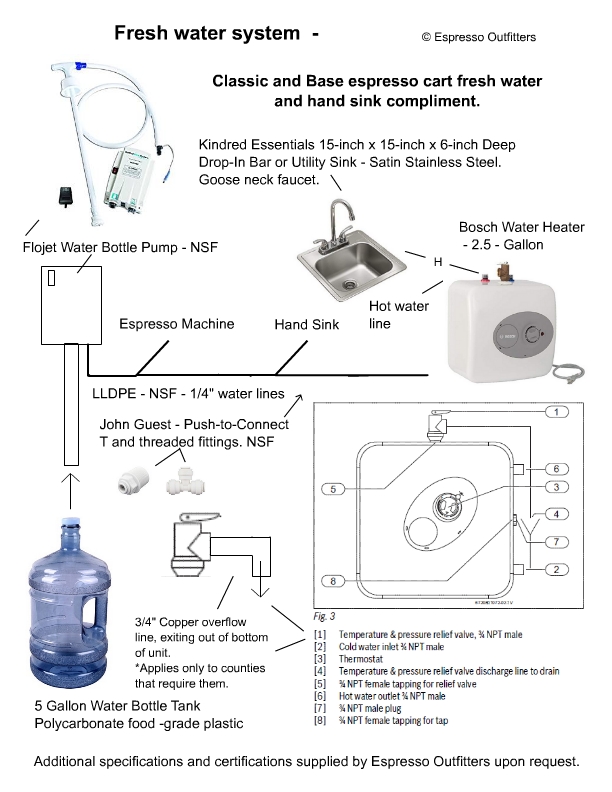 The Neon Espresso Cart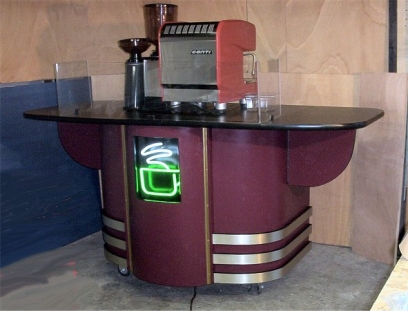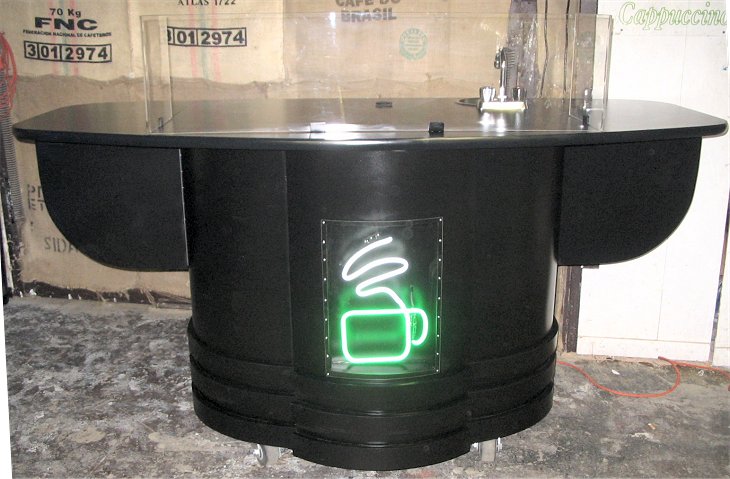 The Neon Espresso Cart is a very futuristic and impressive design.

Innovation, creativity and advanced building skills pushes the mobile espresso concession to new levels.
Counter and body - 34 inches deep by 4 feet long.

Extensions (2) - 18" each making the total counter size 7 feet.

Steel base frame with industrial Colson castors rated at 4 times the weight of the cart and equipment.

High end finished birch plywood core construction.

Laminate surfaced secured using industrial commercial contact cement.

Flojet industrial commercial water pump.

2.5 gallon water heater.

5 gallon stainless steel freshwater tank.

7 gallon waste water tank.

Quick disconnect fittings all around.

Removable front section.

Custom Neon Sign and casing.
Upper cabinetry allows for more storage, it also doubles for extra signage. Sharing some photo's of one example with a 4 foot Silver Standard Espresso cart. This is a practical option that can be built to size and shape for all of our espresso carts.

| | |
| --- | --- |
| | |
| | |
| | |
The Mini Standard Espresso Cart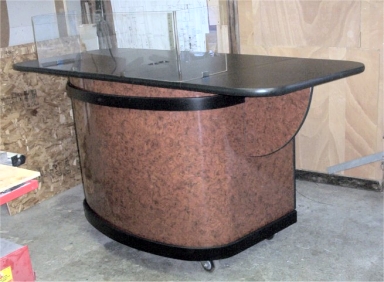 The "Mini Standard" espresso cart packs alot of power into a very small area, with a 4 foot body, makes this one of the smallest espresso carts in the industry, perfect for catered events as well as can handle most main stream espresso cart requirement.
The Standard Espresso Cart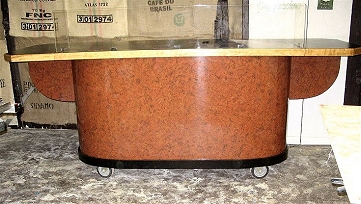 The Standard espresso cart combines high end, old world finesse in wood working combined with a modern, rounded body style. The hand finished solid hardwood trim gives it a rich appeal along the counter edges which makes for a warm, sophisticated look and feel.

| | | |
| --- | --- | --- |
| Over Sized Castor Option. | | |