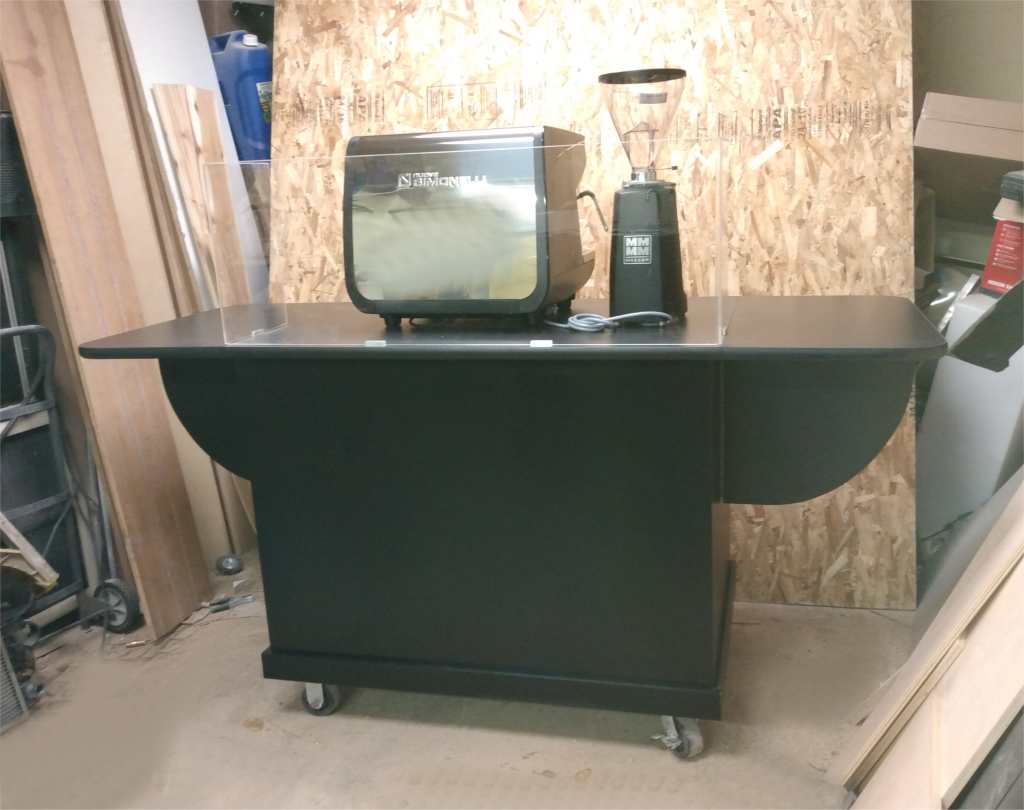 -

Espresso
Carts

- Grinders

- Prices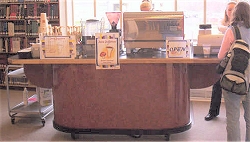 We have combined a more rounded approach with a practical design and added trim and features to make this truly ahead of the pack., from the hand finished hardwood trim to give that extra touch of class to a modern streamlined art deco body profile and more, this is a very well thought out and executed espresso cart design that simply stands alone. They are also designed to accommodate local codes both indoors and out while keeping the dimensions down to a manageable level when it comes to navigating through tight areas.

When you are on location with the Standard Espresso Cart, you are making a presence, this cart just speaks out for itself in quality and aesthetic appeal. From an operators point of view, nothing is better then utter simplicity, the learning curve is very small and extensive operations manuals are unnecessary, all elements are common sense and replacement parts are easy to find , the slide out sink area also doubles as extra work area while remaining light and simple to use without dragging out the entire plumbing compartment with it. All fittings are quick disconnects to ease changing out fresh and waste water tanks.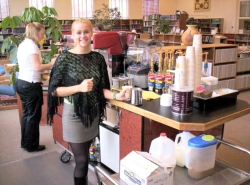 Additional features not listed at the spec sheet are detailed here:
Laminate/edge work:
We use only 3M commercial grade water based contact cement to secure the laminated surfaces. Being water based eliminates toxic fumes during construction and the water itself, once purged from the compound through drying is repelled afterwards making this yet another layer of moisture resistance. You will not find this contact cement for sale for public use due to it's shear longevity and integrity in nature.
All end work i.e.. door edges, dividers are t-molded to make them safer when bumped up against as well as adding a degree of trim.
Base Frame:
The 1" by 2" aluminum tubing is 1/8" thick stock, the exposed area is brushed finished to create a glimmering, textured surface. Unlike other aluminum construction, there is no need to touch it up with paint, there is no powder coat to chip away and under the most extreme circumstance where it's physically marred, it can individually be replaced or touched up with a piece of sandpaper.
Plumbing:
We use primarily 3/8" food grade nsf nylon braided lines for the fresh water system and 3/4" flex pipe for the waste water.
The fresh water system:
Each clamp is strategically placed to maximize the barbs within the fittings themselves to insure the maximum snug fit reducing leak liability. We use specialized clamps that can easily be removed and replaced with the traditional "worm gear" clamp to allow expansion.

The Waste water system.
Using flexible lines eases changing the waste tank more easily, this is also integrated with easy to use garden hose quick disconnect fittings. The drain is hooked up to a specialized Ball type P-Trap keeping that area self contained in a compact unit.

The 2.5 gallon GE water heater is removable for ease of maintenance, it also has it's own adjustable thermostat as well as carries it's own 6 year warrantee.
Mobility:
Positioning the castors based upon the weight load distributes the load more efficiently, not being tied to an aluminum extrusion and/or prefabbed system allows us to do this. This combined with the larger surface / circumference of the 6" by 2" castors makes even the heaviest loads very easy to handle to a point that will amaze most first time users and you'll agree after moving one around no matter how loaded up, that this is a very highly mobile, easy to maneuver espresso cart.
Structural integrity is paramount:
We've built a system that eliminates all flex. Take a look at other espresso carts being rolled in and out of their retail locations, you'll notice the doors as well as the cart itself bend and twist, you can do this visually without having to use a micrometer, this shows weakness that eventually will contribute to the final breaking down of the very structure of the cart itself. I'm sure you have read about "touching up", "tightening up" and or general cart maintenance to insure your serving area stays on the ground. We have designed a "non loosening" not dependent upon welds system. It's primarily a combination of common sense, analyzing past data as well as looking into other areas of construction all together.
True Craftsmanship:
Espresso-Outfitters has been committed to manufacturing everything to the utmost in integrity, taking extra time out for even the smallest details. All construction is built individually, custom tailored to the clients needs.
Contact us for more information.