A fully outfitted espresso cart with all of the commercial equipment at one package price!
Delivered to your door at one flat rate!
$15,000!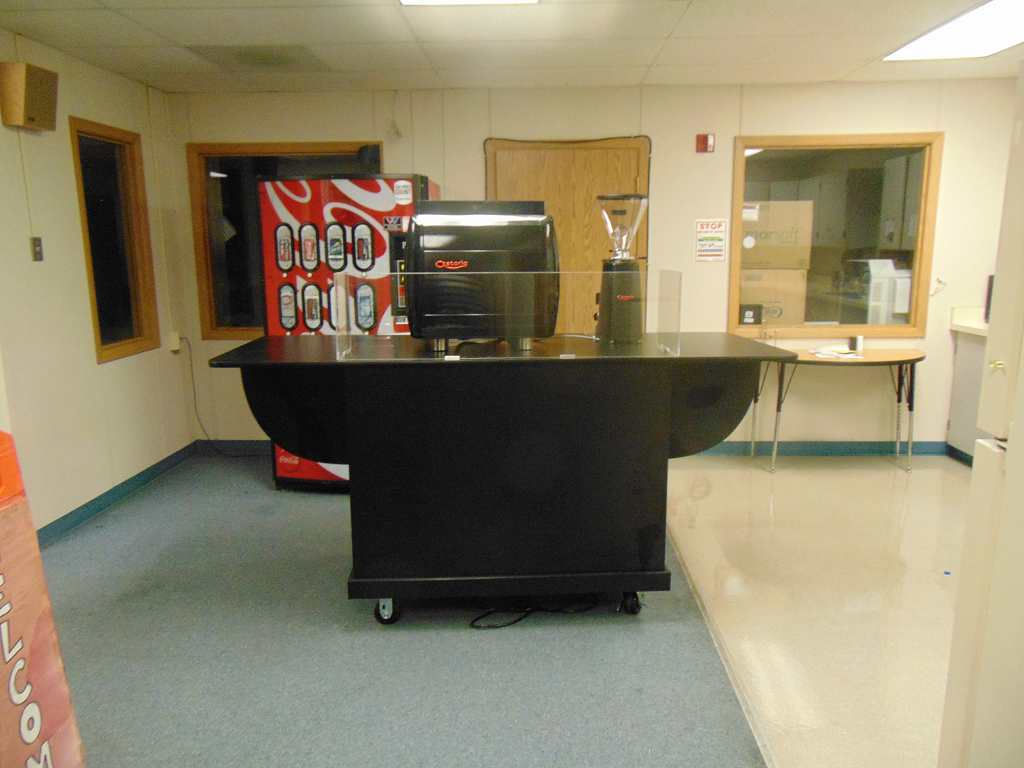 A Turn Key Espresso Cart that You can easily set up!
The package includes:
4 foot Classic Espresso Cart with 2 fold down extensions which extend the counter to 7 feet.
Astoria GLORIA SAE 1 automatic espresso machine, 1 group, an easy to use work horse that is Italy's best in engineering, design and reputation.
SUPER JOLLY TIMER commercial grinder. Made by Mazzer, the industry standard from the beginning.
Beverage Air UCR 20 refrigerator, the best for commercial refrigeration.
Shipped to your door.
(Click images above for a larger view.)
The cart:
Beginning with the cart, this is styled in the traditional, classic style, one that is both conservative and in this scale the smallest commercial platform in the coffee and food service industry. Do not let it's size fool you, it has plenty of counter space and carries the full compliment of commercial grade plumbing to include the pump, water heater, hand sink, portable fresh and waste water tanks and room for the refrigerator as well under counter. This is assembled using high end shop grade plywood, reinforced and utlizing a heavy duty base frame to handle the load it is carrying with ease. In the package deal, only thick steel tubing is used for the base frame, wood is fine but this upgrade is something that's even more over the top then it's stand alone separate purchase unit. It also has a heavier duty shop grade surge protector, the stand alone is fine with something normal, but upgrading this component expense wise is justified. The stand alone uses the same as this along the industrial castors, rated at 450 pounds each, and both are carriage bolted through the base frames and bottom plywood panels.
The interior on this line is treated with an industrial clear coating that repels water, exterior is using Pionite brand flat black laminate adhered to it's surface using industrial, commercial use only contact cement. There are health department requirements to make sure all surfaces are smooth and cleanable, these are only part of why things are the way they have been applied, pride in construction and longevity of it plays a big part in this. No mdf, particle board, or other water soluble, structurally weak materials ever enters the door to our production facility at Espresso Outfitters! This core construction combined with the surfacing will insure your cart will last many decades.
The plumbing is as no nonsense, in absolutes the easiest to understand, maintain, modify, add onto and it just makes sense to keep things simple here. The unit is a fully self contained kitchen, it's also one that is reliable with the best components installed. The health departments as with everything else into consideration, there is also that to contend with along with making it realistic for the client to use. The tanks for example, typical requirements are 5 gallons fresh water with 15% more capacity for waste tanks, this comes out to 7 gallons. We have that as a standard option in our espresso carts for two reasons, one being to comply, another is that going beyond that capacity is unrealistic for the average person to transport by hand. The tanks being removable allow for several of them to be on site as well, in this case any off of the shelf 5 gallon water bottle is it's source, and the 7 gallon waste tanks can be ordered for only $50.00 each from us if you require more.
The espresso machine: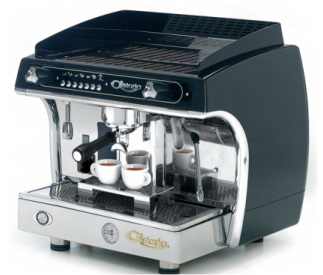 The Astoria Model Gloria Sae 1 automatic espresso machine combines ease of use with simplicity. Fully automatic with a semi automatic control option makes the barista's job much easier and allows for them to adjust on their feet if necessary. The controls are vey simplistic, intuitive for any person to understand and even the absolute novice can operate this machine with ease. It's styling speaks for itself, this is a very robust, large, formidable and absolutely high end commercial espresso machine! It's capacity pushes the limit between one and two group espresso machines in the past. This is not at all the typical scale on any level, feature wise as well with what is typically associated with a one group espresso machine.
TECHNICAL SPECIFICATIONS
Heating Element: 2000 watt
Boiler: 7 qt
Net Weight: 122 lbs
Shipping Wt: 174 lbs
W 23" D 22" H 23"
110 volts / 19.4 amps Built-in Motor Pump
Colors: Metallic Black, Chrome* Includes Connecting Hoses
Astoria espresso machines are manufactured exclusively in Italy as all of the best in the industry have been from the very early days of espresso, dating back to the early part of the 20th century. There is a reason they have gained the reputation they have and so many are being used to this day and will continue to. There are some great off brand, new main stream designs out there, but sticking with an industry standard eliminates the guess work, also it's good to have experience backing what is making what you own.



The grinder: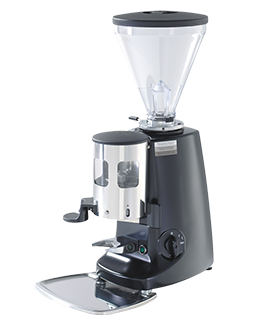 The Super Jolly Timer commercial grinder, is a Mazzer masterpiece of design, easy to adjust with less parts to break down and no programming required for that perfect grind. This is a heavyweight of a grinder that is relied upon exclusively by the majority of all coffee shops. You can dial it in for production, set the time and hit the button and it will fresh grind the perfect volume and coarseness, you can also very easily adjust on the fly should you decide to mix up different types of roasts without needing a technical manual or specialist to intervene with.
TECHNICAL SPECIFICATIONS
Voltage: 110 (V)
Rated power: 350 (W)
Grinding burrs: 2.5 flat (64mm)
Grinding burrs speed: 1600 ( rpm)
Hopper capacity of coffee beans: 2.65 (lbs)
Container capacity of ground coffee:
Dose adjustment: 5.5 - 8 (g)
Width: 7.75 (in)
Depth: 10.5 (in)
Height: 24 (in)
Net Weight: 31 (lbs)

The refrigerator: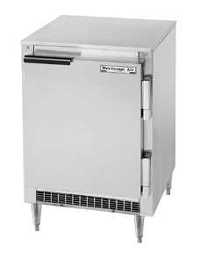 Beverage-air has always been the top industry leader with commercial refrigeration. They have been rock solid in the commercial industry for many decades and they always perform to the absolutes in performance, less prone to breaking down and have formed their reputation to be the company that only produces quality. This unit, the UCR 20 has ample space while keeping a small foot print and is built to the same quality in all ways to units that are far larger and more extensive then it. It has a robust, thick industrial food grade stainless steel casing that also adds to it's appeal too.
TECHNICAL SPECIFICATIONS
23 inches deep and 25 inches high.
2.7 Cubic Foot Capacity
Voltage: 110 (V)
The extra's:
In addition, all of the wares from the knock box, condiment holders to cups, lids, straw's napkins and far more including the beans themselves can be added based upon projected sales or current so the client can focus less upon setting up their cart and more upon starting and running it. Additional support for electrical, plumbing, health department, to all that is required to address is also extended to make things easier.
It can be a daunting task to consider the inventory required to have on hand with things such as cup's and lids, napkins, straw's, to the needed elements such as a knock box, condiment dispensers, napkins and the like. These are also fine tuned to the clients needs and can be ordered through us within a package deal. Projected sales to established, and interacting with your inventory control intuitively, it's like having an additional manager helping out there if needed. Most coffee shops pay extra for a person to monitor and place the orders, so keeping it this way maximizes the time and effort. Also, it's great to start up without having to worry about all that you will need and not be over buying, nor getting short on the things that you really need. In general, $500-$1000 is typical expenditure for the first couple of months along that aspect, more so in the future since it will mean business is picked up to require that. Each cup = $ which makes looking at the more money you spend here the absolute better if that is what the demand is requiring. You will not be needing to do the same with the set up offered in this package since it's gauged at very high volume to begin with.
There is support with authority too upon helping your front end, literally from developing your company log, business plan, web site, marketing on and off line, to the many things that you will require along inter office to otherwise upon. Being organized, having this front end and staff to focus upon when there is time is critical to your companies success. One can have the best coffee shop on the planet, but if nobody knows where it is at, or a reason to go there it is a waste of time. Personalizing it to your own needs as well helps to fine tune it better for your own too.
Final note:
You are focused upon your business, making it succeed, moving forward and want to be on the absolute best level ground with the people, equipment, wares you are utilizing and supporting your operation. Your goal of excellence is backed by this, there is zero compromise on any level and it's also scale-able should you decide to expand with a different and bigger cart, equipment compliment, or a deeper venture that goes into taking advantage of much more of what Espresso Outfitters has to offer for anything from full scale restaurant, to outfitting a mobile food service vehicle, to more. You are in this for the long term, so are we and the knowledge base that's extended from the company, a great deal is taught from the input from past clients, we are happy to pass along the wisdom accumulated through it.
*Additional revisions from equipment to cart sizes and styles offered at a package discount upon request.