Dimensions:
2' Depth
3' Length
38" Height
A choice of colors and patterns.
You aren't limited to the colors shown at this site, black is our base color platform and our suppliers are used to handling the volume we do with it since it's used on almost all of our espresso carts. You can view the current swatches by clicking HERE

We are happy to expand upon this line on request. Be sure to check out our side carts as a nice addition to help accommodate storage and customer service areas.
*FloJet pump
Designed to connect to any standard glass/plastic 5 gallon water bottle and feed the rest of the plumbing lines.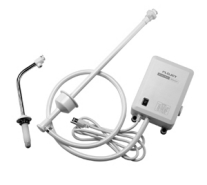 *Titan 2.5 gallon water heater
Connected into the hand sink to deliver hot and cold running water.