We have custom fabricated a large volume of varied projects in the past, this experience is combined with a lot of imagination and a "can do" attitude about any project no matter how elaborate and extensive it is in complexity and scale. 20 years in the industry, you know we have seen it all, and experience cannot be merely purchased, it has to be earned.

This experience is drawn back to the heyday of when the espresso cart first hit the scene in Seattle, where we were formally residing at the time and continues to exceed all expectations to this day.

We also cater to those that want to do it themselves, offering support and equipment custom tailored to their application. There is no reason to be completely on your own building your dream cafe, cart, drive thru or mobile concession, we have been there, done that, and are happy to share our expertise. What is shown at the site are mainly our cart lines, we are happy to accomadte additional support units, commercial cabinetry, customer and staff work stations, and keep things on time, on budget. There is no need to be restricted to the local suppliers when you are able to have the same project, custom built to order, and shipped to your door, ready for ease of installation.

All in all, the food service industry, and what we cater to within it is still pretty much limitless, we strive to keep an open mind and are constantly testing and researching elements in order to push the boundaries in all areas of it forward.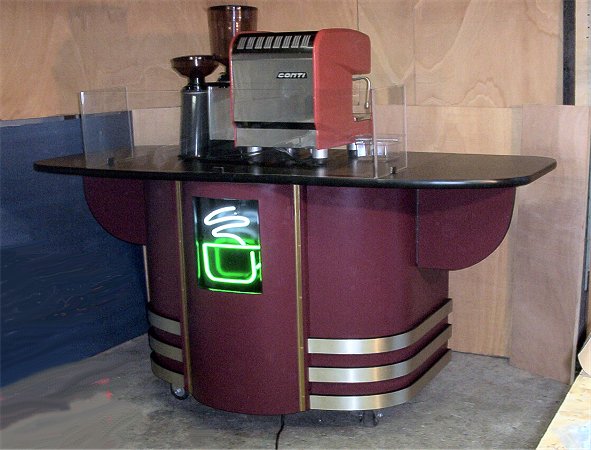 Neon Espresso cart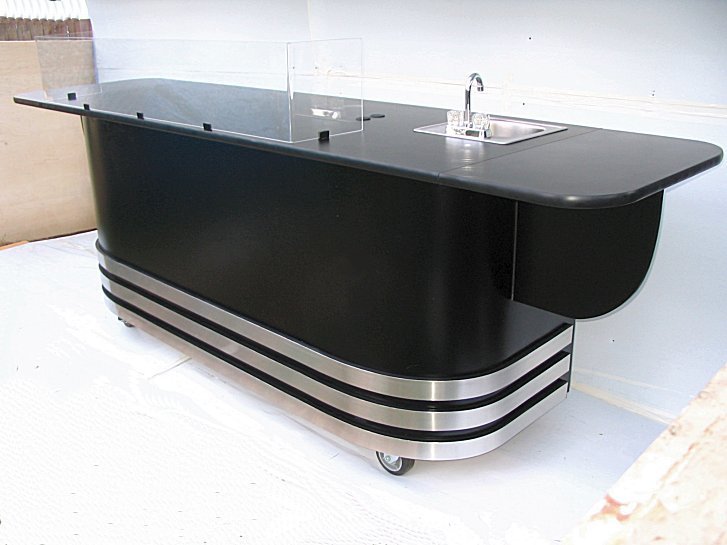 Mspec Food Service and Espresso Cart
Our designs are only limited by ones imagination. Shown above is a concept cart which adds bold new angles to the layout. We are constantly experiementing with new design configurations and creating them in 3d on the computer first, allows for flexibilty while keeping the process of innovation moving foward wtihout unecessary costs of creating a prototype to present the idea to the public. Check out our concept cart section for more along this current design, being now built in the real world.

We ship nation wide, our shipping and crating procedures assure everything to be at the same level of quality from our door to yours and our volume approach, along with long term business relationship with the carriers, extends deep discounts for our clients to keep everything most cost effective.
What's New!!!
September 2013,
Adding onto what we already do for supporting our clients businesses, we are offering comprehensive web site design and online marketing.
We were one of the first coffee related companies to have a web site, and remaining within the cutting edge of this industry required being on top of things in the web presence world. Our staff has 30+ years in the computer industry, and have been helping to pioneer how we market onto the web. All of our web sites are custom designed to suit the clients tastes, budget and vision. We also are able to get your site listed to the front page of all of the major search engines with ease.
Contact us for more details.
July 2013,
We are introducing a whole new line of food service and coffee cart lines to the industry which will cover the California market in it's strictest areas, beginning with Los Angeles County and moving outwards. Our company never backs down to a challenge in design sophistication and technologies and our research and development department has made huge strides forward with what these new lines entail.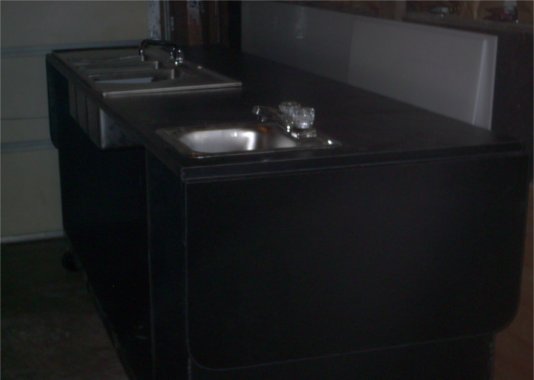 Check back for updates, for we we are posting the progress within our concept cart section of the web site.
Advanced designs are always welcomed!
No design concept is too advanced for us to produce and we always do so cost effectively. What may be cost prohibitive, or not practical, or out right unattainable in other shops, are easily achieved in ours. The process of creating something never done before is warmly embraced and adding a new line to our company is always beneficial.
Shown here is a concept that was revised from an earlier, computer generated rendering we have shown in our concept cart section. These were created for a prominent college for food serving and could easily be outfitted with the full plumbing compliment or simply used for serving and storage.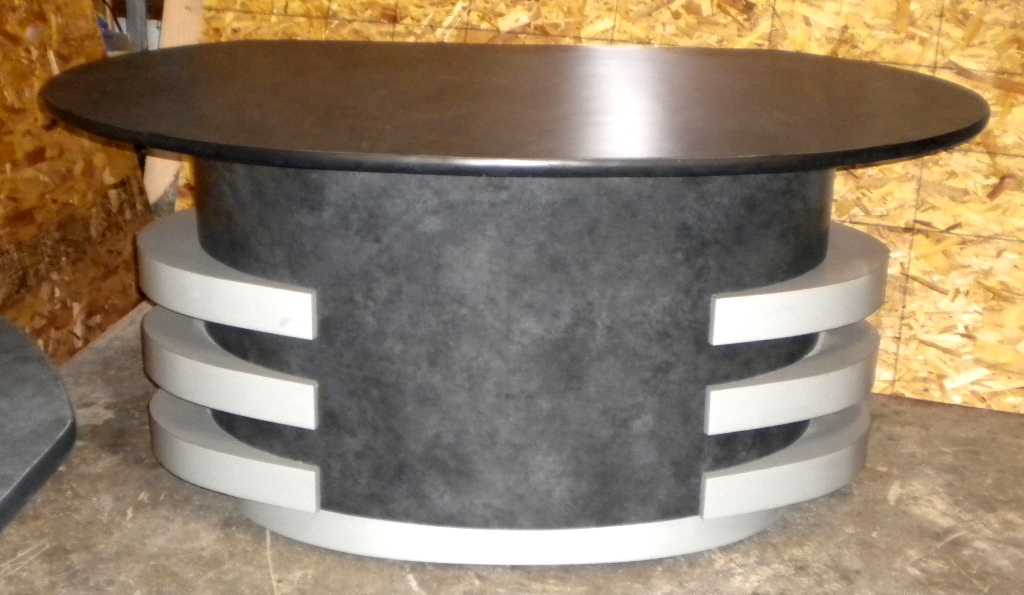 Click HERE for more information and photo's of this line.
Our base espresso cart lines are a great platform for those on a budget yet still desire quality new construction without the liabilities of typically buying used. Straight forward simplicity of it also requries less construction time for those who are just in a pinch along time and need to move foward with a no nonsense, full sized, rock solid working platfrom.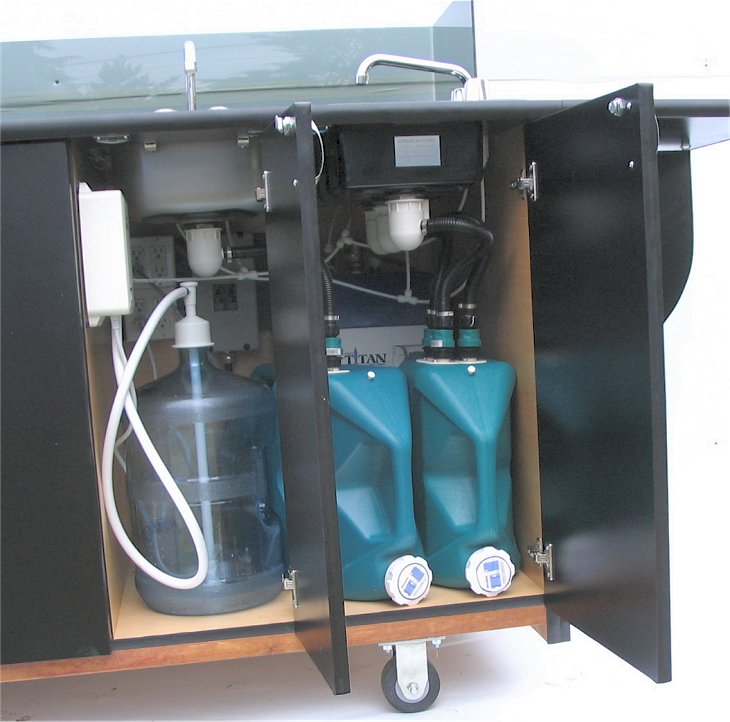 All of our espresso, food service and sink carts are complete with the entire plumbing compliments so that they are completely self contained. Fill the fresh water tank, plug in the electrical, and you are ready for business. Simplicity through portability while being able to move it easily to a lucrative catering gig or residing in a lobby or sidewalk allows for maximum versatility.